Bucilla ORNAMENT WREATH Lighted Felt Christmas Kit OOP Factory Direct VERY RARE
05.20.2018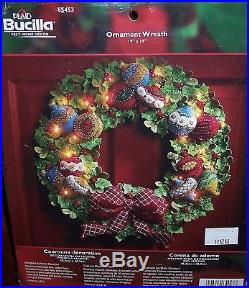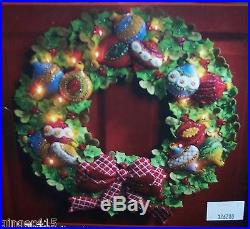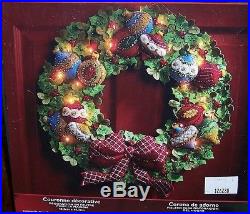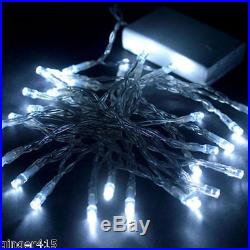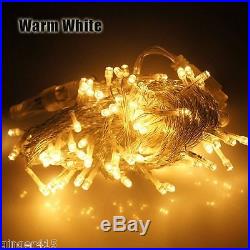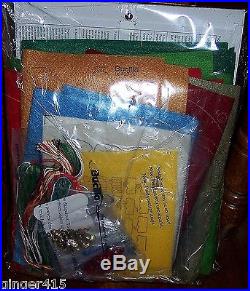 Bucilla Discontinued Lighted "Ornament Wreath" Felt Christmas Wreath Kit Factory Direct Extremely RARE. Any time is a great time to get started on your stockings for next Christmas or gifts throughout the year. All of my Bucilla Lighted Ornament Wreaths are directly from Bucilla when they were producing the kits. They have never been on the secondary market. I carry two shades of the clear lights, warm & cool which are made in the USA. This "Ornament Wreath" was designed by Maria Stanziani and produced by Bucilla in 2007. The is one of the rarest Bucilla kits produced. This beautiful wreath is composed large ornaments of different shapes and accented with holly and berries. There is a gorgeous, large beaded and sequined, embroidered bow at the bottom. This have been out of production for almost 8 years. This is one of the most beautiful wreaths you will find. I have completed it and will be happy to submit pictures of the lighted wreath. When completed, this is one of the larger wreaths measuring 19″ x 19″. It will show all the love and work you put into it. It is very detailed and colorful. The lights add a lot of glamour and sparkle to it. This is an extremely well-designed, beautifully crafted wreath. This kit contains everything you need to complete your wreath. It has stamped felts, cotton floss, color separated sequins and beads, 2 needles, tri-lingual instructions and a string of 20 clear lights. The only item not included with your kit is the polyester filling or a filling of your choice and batteries for the battery pack of lights. This string of 20 clear battery pack lights which comes with this kit are more subtle than the new LED lights. The new LED lights are brighter and can be used safely with any of my felt kits including the other Home Decor pieces like the Cookies and Candy wreath, the Nordic Gingerbread wall hanging and even stocking kits. Don't miss this beautiful kit. There is not one wreath kit that can come close to its beauty. You might consider a string of the LED lights, which I do carry in the clear cool or the clear warm. These lights are brighter than the older Bucilla lights or the smaller, newer fairy lights that Plaid is using on their new kits. They are more power efficient, durable and cool on the fabric. They will definitely enhance your decoration since it is so convenient to turn them off or on. Plaid has started making some lighted kits but they are using the fairy lights and there is quite a difference. The Fairy light is built in the cord and do not stand out like the older kits did that Bucilla produced. They are not quest as bright as a regular led bulb but much. You can a dd the lights to this or any of your kits. It really brightens up your display. If you attach a small pocket to the back of the wall hanging, wreath, Advent calendar or the stocking kit, or any other home decor piece, it makes it easily accessible for turning them off or on. They are simple to install and easy to remove without showing the tiny hole or pinpoint slit that you make when you insert the tiny little bulbs. You can adjust the lights to twinkle or to stay on constantly. I carry the clear warm lights have a golden glow and the cool clear lights have a brighter. The lights that are shown are not included in the price of the kit. This is strictly for your viewing to see the difference in the lights in case you are interested. The lights you are getting with this kit are the older Bucilla kit since your kit is still factory sealed. In the past, Bucilla produced several lighted kits from stockings to home decor such as Christmas trees and Santa's cars and trucks. These kits today are extremely expensive and don't even have the bright LED lights. The lights are really making a difference in the items. You can view my LED lights in the description. You can research fairy lights and see the difference. If you want a gorgeous inside wreath, this is it. Not only will it show off your hard work, but will definitely enhance any room at Christmas. The below description is for both new and kits from the secondary market. This kit was produced in the USA by Bucilla in 2007. It is a limited very rare, discontinued kit. It has been stored in an air tight container in a climate controlled environment. In case of loss or damage, please contact me and I will file all claims. I wrap all of my kits in white tissue and label them so that there is no chance of the kit opening during transit and losing a bead or sequin. It preserves the cleanliness of the kit as well. All of my kits are from a clean, smoke-free, pet-free environment except for the vintage kits. I do take extra precaution on all vintage kits or opened to maintain they are germ-free. Since vintage kits go through so many hands, it is for this reason that my kits cost a little more because they are completely sterilized using the procedure that is used in a surgical procedure. I don't just wipe down the outside of a package with a germicide. I sterilize completely throughout the kit. There is a grommet hole, a hole which is used for displaying the kit, ornament, etc. Germs and bacteria can go through the grommet hole on any kit. It is worth it to make sure your kit is germ-free. I will never sell you an incomplete or dirty kit. If I receive a kit that has a torn, dirty or in an extremely worn plastic package, I will replace it with a new bag and professionally heat seal it. Please wait for a combined invoice if you are wanting more than one kit. Tree skirts and Home Decor such as wall hangings and Advent calendars vary depending on weight. Please visit my store, "Christmas is in the Heir" for the rare, hard-to-find or BIN kits. If you are looking for a particular Bucilla stocking kit, please let me know. When leaving feedback, if you feel that you have received anything less than five star service from me, please let me know. I will try to resolve your issue. The item "Bucilla ORNAMENT WREATH Lighted Felt Christmas Kit OOP Factory Direct VERY RARE" is in sale since Thursday, September 21, 2017. This item is in the category "Crafts\Needlecrafts & Yarn\Embroidery & Cross Stitch\Hand Embroidery Kits\Other Hand Embroidery Kits". The seller is "ginger415″ and is located in Little Rock, Arkansas. This item can be shipped worldwide.
Brand: Bucilla
Model: 85453
MPN: 85453
Country/Region of Manufacture: United States
Country of Manufacture: United States
Status-Extremely Rare: Designer-Maria Stanziani
Theme: Christmas
Holiday: Christmas
Material: Felt
Bundled Items: Free LED Light Exchange if Desired.