Bucilla ROCK & ROLL SANTA Felt Christmas Stocking Kit-MusicGuitar Sterilized OOP
06.08.2018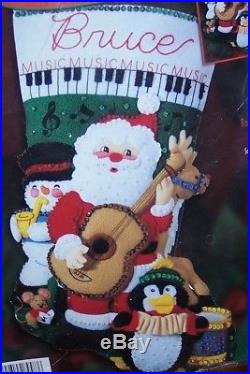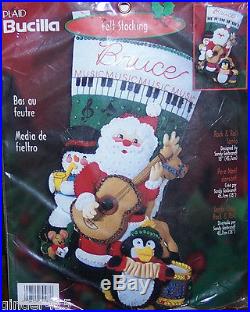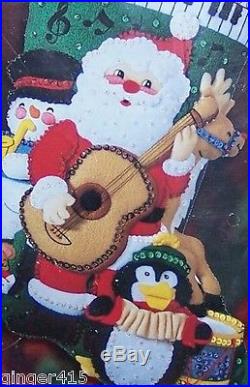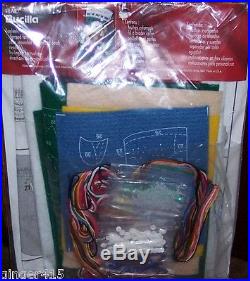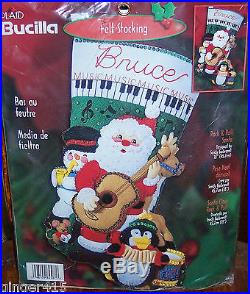 Bucilla RARE "ROCK & ROLL SANTA" Felt Christmas Stocking Kit-Completely Sterilized. Now is a great time to start on projects for Christmas or gifts throughout the year. " Rock & Roll Santa" is the perfect kit for any music lover or anyone in a band. It would even be great for the "Doo Whopper" in your life who still loves those "Rock & Roll" tunes of the 50's and 60's. This stocking kit is set on a dark green background with musical notes embroidered on it, as well as highlighted with green seequins and beads. This shows a large Santa playing the guitar, Rudolph is on the drum, Frosty is playing the Sax, a Christmas mouse is singing and a penguin is playing an accordion. The cuff of the stocking is a keyboard and above it are the words, "Music, Music, Music, Music". Sandy Garbrandt designed this precious kit in 2001 for Bucilla. She was one of their best designers ever, who is no longer with them. She was great at capturing expressions on the faces of all her. I have submitted a close-up of the faces of the "Trio". She was great with unique accents, i. The keyboard trimming the cuff with the subtle black notes on the dark green background. It is an extremely colorful and very well designed stocking kit. Since this kit was bought on the secondary market, it has been sterilized and guaranteed germ-free. It is for this reason that my kit cost is slightly higher but definitely worth it. It is sterilized in the same manner that surgical instruments are sterilized. You can be sure that you will not be receiving anything but a perfect kit from me. This finished stocking is 18 inches in diagonal length when completed and is still factory sealed. It was produced entirely by Bucilla in the USA. It was designed by Sandy Garbrandt, who is one of the best ever designers who no longer produces for Plaid. Since this kit was on the secondary market is shows light wear on the plastic, but it is factory sealed and has been sterilized completely without moisture and in the same manner as surgical instruments. This kit contains stamped felts, cotton floss, color separated sequins and beads, 2 needles, tri-lingual instructions and directions for personalization. Everything you need to complete the stocking are in the kit except for the polyester filling or the filling of your choice. In case of loss or damage, please contact me and I will file all claims. I wrap all of my kits in white tissue and label them so that there is no chance of the kit opening during transit and losing a bead or sequin. It preserves the cleanliness of the kit as well. All of my kits are from a clean, smoke-free, pet-free environment except for the vintage kits. I do take extra precaution on all vintage kits or opened to maintain they are germ-free. Since vintage kits go through so many hands, it is for this reason that my kits cost a little more because they are completely sterilized using the procedure that is used in a surgical procedure. I don't just wipe down the outside of a package with a germicide. I sterilize completely throughout the kit. There is a grommet hole, a hole which is used for displaying the kit, ornament, etc. Germs and bacteria can go through the grommet hole on any kit. It is worth it to make sure your kit is germ-free. I will never sell you an incomplete or dirty kit. If I receive a kit that has a torn, dirty or in an extremely worn plastic package, I will replace it with a new bag and professionally heat seal it. Please wait for a combined invoice if you are wanting more than one kit. Tree skirts and Home Decor such as wall hangings and Advent calendars vary depending on weight. Please visit my store, "Christmas is in the Heir" for the rare, hard-to-find or BIN kits. If you are looking for a particular Bucilla stocking kit, please let me know. Be sure to add me to your favorites list. Check out my other items. Please subscribe to my newsletter to keep up with the latest acquired kits and any promotional for newsletter members. This is subject to change at any time. Any location that would be in violation of any U. Economic or trade sanctions including OFAC Restricted Countries. Coverage is NOT AVAILABLE to Russia or the Russian Federation. This list is subject to change. The item "Bucilla ROCK & ROLL SANTA Felt Christmas Stocking Kit-MusicGuitar Sterilized OOP" is in sale since Saturday, November 30, 2013. This item is in the category "Crafts\Needlecrafts & Yarn\Embroidery & Cross Stitch\Hand Embroidery Kits\Other Hand Embroidery Kits". The seller is "ginger415″ and is located in Little Rock, Arkansas. This item can be shipped worldwide.
Brand: Bucilla Original Kit made in USA
Model: 84587
MPN: 83385
Country/Region of Manufacture: United States
Country of Manufacture: United States
Material: Felt
Craft: Embroidery
Product: Christmas+Stocking+Kit
Status: Discontinued
Factory Sealed MIP: Professionally Completely Sterilized
Theme: Music
Format: Stocking
Holiday: Christmas
Very Limited Edition: Extremely Rare Kit
Produced by Bucilla in USA: Designed by Sandy Garbrandt 5***** Designer
Shapes+%26+Themes: Theme Music~Piano, Guitar, Keyboard,etc.